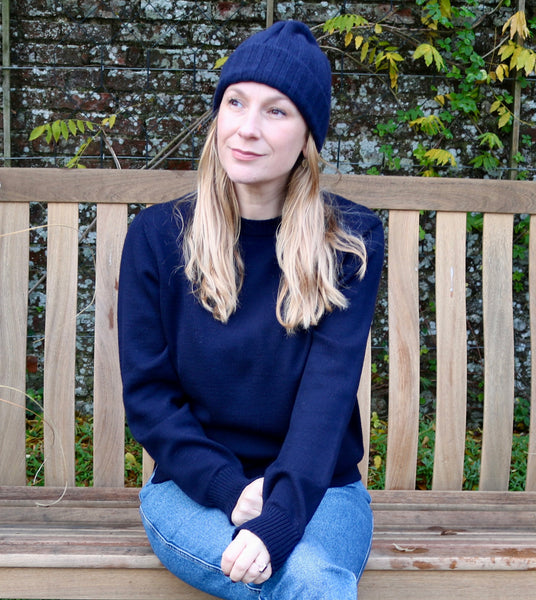 GORGEOUS MERINO WOOL JUMPERS, IN CLASSIC NAVY AND RED, THE ULTIMATE YEAR ROUND CHRISTMAS JUMPER.
Were £99 now £50
Stay cosy and chic at the same time!
SALE CREW NECKS
YEAR ROUND ROLL NECKS
Were £99 now £50
If you're looking for a perfect year round roll neck jumper then look no further. We've taken our best selling crew neck jumpers and re-designed the neck with a soft roll that's cosy but not restricting. In four flattering colours they will go with everything from jeans to smart trousers and skirts. As with all our knitwear this is 100% Merino, so it's super soft and can be worn direct against the skin. Made sustainably in Scotland this is a wardrobe staple for you to keep for many years to come. 
50% OFF ROLL NECKS
TRAVEL WRAPS - BACK IN STOCK
Special Christmas Gift offer were £89 now £70
Beautiful and soft 100% Merino Wool travel wraps. Use as a wrap or a scarf in the Winter, or perfect in the Summer as a lightweight cover up. Cosy, warm and chic, these are made for year round wear. 
Six gorgeous colours to choose from, and the perfect gift for someone special.
Made using traditional methods in Scotland.
View Travel Wraps
NEW IN - GORGEOUS WOVEN SCARVES - POWERED BY PEDAL
Special Christmas gift offer were £115 now £99
Who doesn't remember learning how to ride as a child? Such a monumental achievement, that first taste of independence with the wind rushing by. Now more than ever cycling has come to the fore as we strive for more sustainable travel. But what if we could also use the power of the bike to produce local products more sustainably, removing the need for a constant reliance on electricity.
I'd always wanted to make a woven shawl as part of our collection. The French know how to accessorise well! I know you love our versatile wool wraps and I wanted to give you something similar, but a little lighter and with texture.
View Shawls
THE STORY BEHIND THE POWER OF THE BIKE
Our woven shawls are made by a small weaving business on the Hebridean Isle of Skye. Andrea and her husband Roger have spent the last 10 years preserving and using the knowledge and quality associated with Scottish textile making. But what makes these shawls even more special is that they are woven solely on bicycle powered looms!
I loved collaborating with Andrea on our shawls, choosing classic le tee wearable colours and weave patterns, the intricacy of which can only be achieved by small scale production. Using only 100% pure wool sourced from the UK, so that at the end of its time the shawl will simply biodegrade back into the soil. It's a very special investment piece, designed to make you feel special when wearing this for many years to come. 
As always I hope you love them as much as I do. Sarah x
CLASSIC BRETON
Special offer this weekend were £40 now £20
The perfect year round tee. Based on the original worn by Coco Chanel. In classic Navy and white and a lovely pale blue as well. This is a real French wardrobe classic that you'll use over and over throughout the year. 💕
Click to browse Bretons
Our Breton Inspiration
Coco Chanel
Our Bretons are based on the original worn by Coco Chanel. Lovely and relaxed with a slight dropped shoulder. As timeless today as it was then. 💕
Everyday Classics with French Chic